January 22, 6pm-9pm
The spirit of Learning at Lucas; Tapas, Drinks & Insight
Topic: Read Your Own Palm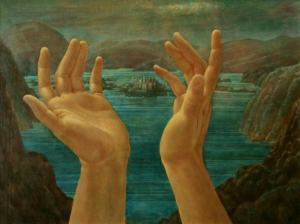 Part of a series of classes to learn your abilities, metaphysical education and more, while you eat & drink at Luca's Mediterranean Cafe on Main St, Keene. Limited to 25 students per class.
Palm reading, otherwise known as palmistry or chiromancy, is practiced all over the world. It has its roots in Indian astrology and Roma fortune-telling. The objective is to evaluate a person's character or future by studying the palm of their hand. Palm reading is like a map of your life. Whether you're an aspiring palm reader or you're just looking for a fun way to pass the time and impress your friends, even you can learn to gain insight just by holding someone's hand. Lets Start by reading our own!
The intriguing piece to this class, is you enjoy helping those around you and comparing.
Does not include: Food, drink, tips
Luca's Mediterranean Menu!
Tapas / Meze / Cicchetti / Small Plates
Almond Crusted Fried Mozzarella
Basil vinaigrette & fire roasted tomatoes with watercress
6
Ceviche de Bacalao
White fish, peppers, onions, cilantro, lime juice, avocado mousse & grilled flatbread
9
Clams & Chorizo Sausage
Sautéed in white wine lemon broth
7
Albondigas en Salsa
Traditional tapas style pork meatballs with piquillo pepper sofrito & Manchego cheese
7
Meze Plate
Roasted red pepper hummus, country olive tapenade & Tzatziki served with pita chips
5
French Country Olives
with roasted garlic & herbs
5
Braised Imported Artichokes
with fire roasted tomatoes
5
Braised Short Ribs
Extra virgin olive oil & salsa verde over grilled crostini
9
Roasted Wild Mushrooms
Chef's blend of wild mushrooms, thyme, rosemary & sage
5
Spanish Garlic Shrimp
Piquillo peppers & roasted garlic
10
Starters
Bruschetta Trio
Seasonally inspired – Please see our chef's recommendations for tonight's offerings
10
Mussels Italiano
prosciutto, white wine, garlic, lemon, butter & fresh parsley with grilled Toscana bread
petite 11      grande 14
Traditional Escargot
Lemon, garlic, white wine, parsley, butter & ciabatta toast
12
Grilled Ciabatta Panzanella Salad
Luca's homemade mozzarella, watercress, fire roasted tomatoes, balsamic glaze. basil pesto and extra virgin olive oil
10
Roasted Beets & Marinated Manchego Cheese
Tarragon vinaigrette, spiced almonds & watercress
9
Lamb Gyro Wraps
Pickled red onion, Tzatziki, feta cheese & butter bib lettuce
11