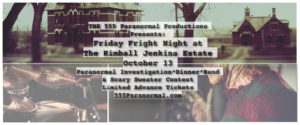 The 555 Paranormal Productions Presents:
Friday Fright Night on October 13th, 2017, 6pm-12a
Mini-investigation with after party!
Itinerary:
6:00-8:00 investigate with some of the areas most well known investigators and psychics! 
8pm Dinner, Band, Scary Sweater Contest and MORE! BYOB.
*MUST BE 21
Band TBA
Local Hotel Room Block discount TBA

Kimball Jenkins: http://www.kimballjenkins.com
Address:
266 North Main Street
Concord, NH 03301
Organized by Psychic Medium, Brandie Wells
Brandie Wells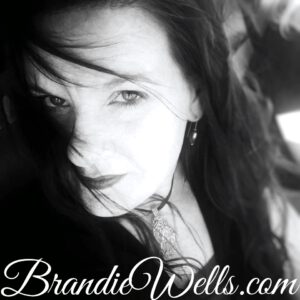 Brandie Wells, Compassionate Clairvoyant will be the lead Para-Psychic Team with a film crew of The Production House. Brandie is founder of The 555, Keene Intuition, Psychic Parties of New England and Co-Host of ASK1Radio.com's Soul Central with Brandie and Danger. Her website is BrandieWells.com. 
Brandie has explored various haunted and historic locations throughout New England. Some of her best known investigation locations: The Lizzie Borden B&B, The SK Pierce Victorian Mansion, The Black Swan Inn, The Houghton Mansion, The Vanderbilt and more.When Brandie investigates, her primary tools are dowsing rods, EMF, flashlights and Spirit box. She is also a table tipper and known for physical mediumship.
My goal when investigating is to hear the story of spirit. I want to get to know who they were, why they are here and allow their story to unfold. Through my respectful curiosity, I naturally draw in spirit to communicate in a variety of ways.