SUNDAY FUN DAY LADIES BUS TRIP * JUNE 3, 8am-6pm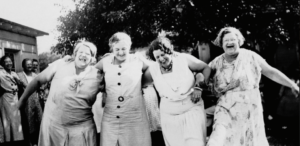 Included: Coach Bus, Admission fee to Dublin Flea, 5 course meal at Pickity Place with tips included, Spirit Gallery with Brandie Wells while in route to Londonderry,  tour and tasting at Moonlight Meadery & 15% off Wine by the case & popcorn w/Golden Girls series on the way home!
*Optional $20 massages. Signups TBA.
Join this Ladies Bus trip from Swanzey, NH to Londonderry, NH and home again! We will be taking the scenic route 101.
*8am Meet at Swanzey Airport to park & Load.
*8:45am First Stop: The DUBLIN FLEA MARKET! (entry fee included) 3rd annual Dublin Market & Bazaar @ Cricket Hill Farm (also known as Dublin's Gas Engine Show Field) Dublin NH, 03444. The only show of its kind in New Hampshire!!
150+ Vendors, Farm to Table & Sweet treat food Trucks, Antiques, Vintage Finds, Repurposed Goods, Local Artisans, Urban Crafts and Salvaged Junk!! Kid friendly exhibits, live animals, vintage camper & classic car/truck displays and Live music!
(NO Purchasing CHAIRS, TRUNKS OR DRESSERS… IT MUST FIT ON THE BUS 😉
*10:40am LOAD the bus "Over the River and Through the woods to Pickity Place we go"!
*11:15am Arrive at Pickity Place, Mason NH From delectable appetizers to decadent desserts, our delightful five-course gourmet luncheons are accented with herbs and edible flowers grown right in our own culinary gardens.
*11:30am lunch seating. Full five course lunch with drinks and tips included.
Enjoy the meal, gift shop and gardens.
*1:30pm Load the Bus and head to Moonlight Meadery.
**Spirit Gallery Messages while on the bus** Included with Brandie Wells Compassionate Clairvoyant/Angelic Healer & Psychic Medium. Done while enrollee!***
2:30pm Arrive for tasting (included)
"We are a world class meadery and cidery from Londonderry, New Hampshire that specializes in meads, the world's oldest alcoholic beverage made from honey, as well as barrel aged hard ciders.
The diversity of our offerings often leave people speechless, while the flavors have them asking for it from their local retailers. Stop by and try the oldest fermented beverage to find out why "History never tasted so good"™.
So outstanding are our meads and ciders, in fact, that Moonlight Meadery has been named 2017 Best New Hampshire Brewery – as chosen by Zymurgy's Best Breweries by State!
Distributed in the United States, Japan, and Australia".
*3:45PM Load the bus & head back to Swanzey
*Popcorn & Movie time! (get ready for some GOLDEN GIRLS)
*6pm ARRIVE
*Must be 21
*No refunds