Join this bus tour for a day full of FUN in SALEM, MA!
Sunday September 30, 8am-8pm
Includes: Coach Bus, Informative Lecture in route to Salem by Leona Carney, Magaian Priestess & Brandie Wells, Compassionate Clairvoyant, 10am: Class with Kris Gurky, Witch, Lunch: Pizza & refreshments, Professional walking tour, Tarot Performance, Free roam through Salem, Meet at Beer Works (Purchase your own meals) & Hocus Pocus on DVD for the bus ride home with popcorn!
*14+ with an adult
*Men & Women welcome!
*Alcohol Free event
*Everything is included in your day EXCEPT: Tips for bus driver, tour guides & Your meal at Beer Works.
*Please wear a hat! (& any other appropriate wears)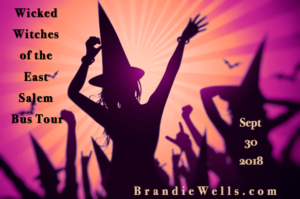 Tentative Schedule: 7:45am, Load bus at Swanzey Dillant-Hopkins Airport/ 10-11:30 Magick class with Kris/ 11:30-12 pizza /12:30 tour /2:30 tarot performance / 3 break to explore and shop 4:45 meet at beer works for dinner / 6:00 load bus
Questions: BrandieMedium@gmail.com