Description
 7-13-18 The 555; Friday Fright Night at The Lizzie Borden B&B
This is a non-film event Featuring:
Cory Heinzen, John Huntington & Brandie Wells
Pizza Dinner~Professional Tour~Paranormal Investigation~Midnight Snack Overview
$99 Per Person
25 tickets available for evening only
Optional: Accommodations with Breakfast
Add accommodations for $66 per person/Beds & Bedding provided
18 tickets available for Accommodations with Homemade Breakfast with checkout at 9:30am
Location: Lizzie Borden B & B
Date: Friday July 13, 2018
6pm arrival
Pizza
Intros
7pm Tour
8pm Spirit Gallery
8:45pm Tool overview
9pm Investigation begins
Lead Investigation begins with rotation, stations.
Formal Investigation eds: Midnight/Non-Overnight guests depart.
Evening Only Tickets: 6:00pm-12am: Pizza, Spirit Circle, Professional Tour, Investigation  $99 (25ppl) 
ADD OVERNIGHT Ticket Time:  All Night with beds! ADD $66 (18ppl)
***All Guests will be signing a waiver for investigation.**
*Pizza & Salad provided (+GF)! 
*Bring a midnight snack provided and non-alcoholic drinks.
*Bring investigation tools, cameras, voice recorders if you have them.
*Must be 18 to attend or have a signed consent with parent attendance 16-18.
*Come sober, stay sober**
9:30am check out for overnight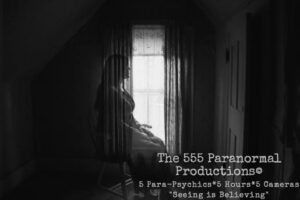 The 555; "Seeing IS Believing"
Rotations and stations to experience the science and psychic of Investigating!
*NOT A FILMED EVENT