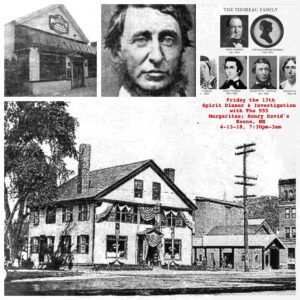 Friday the 13th
Spirit Dinner & Investigation with The 555
Margaritas; Henry David's
Keene, NH
4-13-18, 7:30pm-3am
https://brandiewells.com/product/4-8-18-spirit-dinner-henry-davds/
Includes: Introductions, Psychic round robin (readings at your tables!) and Team Lead investigation at the historic home of Cynthia Dunbar Thoreau (1787-1872), Mother of Henry David Thoreau.
*Does not include meal
Agenda:
7:30pm Arrival, check-in
7:45pm Order your food & drinks *not included (our events are sober, so drink light please)
9:00pm Psychic Round Robin (remain seated while amazing psychics, mediums, tarot card readers come to you!)
11:00pm Introductions from your team leads
11:30pm walk through and historic overview
12:00pm set up for investigation
12:30am-3am Investigate!
Thoreau, David Henry
Thoreau, David Henry, b. July 12, 1817,  Concord, Middlesex Co., Mass.; writer, naturalist, philosopher, pencil maker, surveyor, Transcendentalist, inspector of snow storms; d. May 6, 1862, Concord, Middlesex Co., Mass.; bu. New Burying Ground, Concord, in the Dunbar family plot; moved with other family members to Author's Ridge in Sleepy Hollow Cemetery, Concord (essentially, up the street) in the 1870s.  Changed name to Henry David on his own after he was graduated from Harvard.
Father: John Thoreau (1787-1858)
Mother: Cynthia Dunbar Thoreau (1787-1872)
Sister: Helen Thoreau (1812-1849)
Brother: John Thoreau, Jr. (1815-1842)
Sister: Sophia Thoreau (1819-1876)
From the Margarita's Restaurant:
"Our Margaritas restaurant in Keene, New Hampshire is perhaps the most historically significant out of all the Margaritas locations. That's because our Keene, NH Margs is located on Main Street in what once was the home of Henry David Thoreau's mother, Cynthia Dunbar. While Margaritas has inhabited the building since 1999, it has a rich history dating all the way back to 1785 when it was built by Asa Dunbar. Asa, formerly a minister from Salem Mass., became a lawyer in Keene the same year the house was built. He died in 1787 at age 41. His wife Mary supported her five small children by opening the house as a tavern. Her youngest child, Cynthia, born in this house, would later become the mother of Henry David Thoreau.
The house was at times a boarding house, a lunch business frequented by Rudyard Kipling, the Crystal Restaurant, and for many years was a restaurant called Henry David's. Today, of course, it is Margaritas. It is rumored that Cynthia Dunbar's ghost still haunts the building, most often found in the older areas of the restaurant where the original kitchen would have been". https://www.margs.com/locations/margaritas-keene-nh/
Lead by the Investigators of The 555 Paranormal Productions! Learn the science and psychic elements of investigating with psychic mediums and scientific equipment!
POLICIES
*No Refunds, but with 48 hour notice, tickets can be transferred to another event.
*Must Be 18 to attend or have an ID with signed waiver for 16-18yo
*Must sign waivers for filming; attending
*No Taunting
*Come sober, stay sober
*No crossing over of spirits
*Abide by rules of location first and foremost!
*No leaving event without notifying staff
* ALL footage property of 555 Paranormal Productions. Not only what is filmed by the event host, but what is filmed personally as well. Please submit your works to The 555 and tag all works "The 555" if you share on social media. Your works represent The 555 Paranormal Productions. Sharing is caring!
*A SECRET FACEBOOK GROUP WILL BE FORMED TO STAY IN THE LOOP AFTER TICKETS ARE PURCHASED*
Our fantastic, experienced Paranormal Investigative teams will be announced in this event soon! They come with the BEST of the BEST in experience, featured scientific equipment & knowledge. (Plus they are just awesome people)