7-13-18 The 555; Friday Fright Night at The Lizzie Borden B&B
This is a non-film event Featuring:
Cory Heinzen, John Huntington & Brandie Wells
Pizza Dinner~Professional Tour~Paranormal Investigation~Midnight Snack Overview
25 tickets available for evening only
Optional: Accommodations with Breakfast
18 tickets available for Accommodations with Homemade Breakfast with checkout at 9:30am
Location: Lizzie Borden B & B
Date: Friday July 13, 2018
6pm arrival
Pizza
Intros
7pm Tour
8pm Spirit Gallery
8:45pm Tool overview
9pm Investigation begins
Lead Investigation begins with rotation, stations.
Formal Investigation eds: Midnight/Non-Overnight guests depart.
Evening Only Tickets: 6:00pm-12am: Pizza, Spirit Circle, Professional Tour, Investigation  $99 PAY HERE(25ppl) 
ADD OVERNIGHT Ticket Time:  All Night with beds! ADD $66 PAY HERE (18ppl)
***All Guests will be signing a waiver for investigation.**
*Pizza & Salad provided (+GF)! 
*Bring a midnight snack provided and non-alcoholic drinks.
*Bring investigation tools, cameras, voice recorders if you have them.
*Must be 18 to attend or have a signed consent with parent attendance 16-18.
*Come sober, stay sober**
9:30am check out for overnight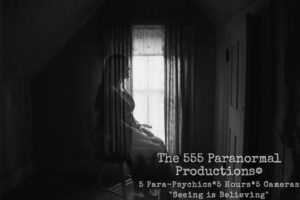 The 555; "Seeing IS Believing"
Rotations and stations to experience the science and psychic of Investigating!
*NOT A FILMED EVENT
Three Team Leads
Owner of The 555, Clairvoyant Brandie Wells
Brandie Wells, Compassionate Clairvoyant will be the lead Para-Psychic Team with a film crew of The Production House. Brandie is founder of The 555, Keene Intuition, Psychic Parties of New England and Co-Host of ASK1Radio.com's Soul Central with Brandie and Danger. Her website is BrandieWells.com.
Brandie has explored various haunted and historic locations throughout New England. Some of her best known investigation locations: The Lizzie Borden B&B, The SK Pierce Victorian Mansion, The Bla
ck Swan Inn, The Houghton Mansion, The Vanderbilt and more.
When Brandie investigates, her primary tools are dowsing rods, EMF, flashlights
and Spirit box. She is also a table tipper and known for physical mediumship.
"My goal when investigating is to hear the story of spirit. I want to get to know who they were, why they are here and allow their story to unfold. Through my respectful curiosity, I naturally draw in spirit to communicate in a variety of ways".
Team Lead: Cory Heinzen has been a member of Maine Paranormal Society since early 2014. Before that, he has been investigating with other teams like GRAVES and GRIM throughout the years. During which time he's investigated such locations as Rolling Hills Asylum, Waverley Hills Sanatorium, Pennhurst Asylum, the L
izzie Borden House, the Houghton Mansion, Bobby Mackeys Music World, the Wolf House, the William Heath Davis house, the Spaulding Inn, Malvern Manor, the Rhoads Hotel, the Villisca Axe Murder House, and Ashmore Estates. Among countless others.
Unlike his fellow teammates, Cory didn't grow up around the paranormal or has ever lived in a haunted house. His fascination with the paranormal actually started back while he was serving with the U.S. Marines Corps. Recently retired from the military, Cory now enjoys his time at home with his wife and kids. When he's not spending time with his family, he can usually be found at the Greater Rumford Community Center hosting a visiting paranormal team.
Team Lead: John Huntington
John Huntington
 is from Maine. He is part of the Taps family and Graves Paranormal. He has a great connection with the spirits through the spirit box. Some of his investigations include: Bobby Mackey's, The Wolfhouse, Pennhurst, Rolling Hills Asylum, Old South Pittsburg Hospital, Eastern State Penn, Houghton Mansion, Mill Agent's House, Black Swan Inn, Greater Rumford Community Center, Mt Washington Resort, whately inn, parsonfield seminary, chapman inn. Fort knox Maine , Lucifers child building,He won EVP of the year in 2015 at the Paranormal awards 2015. He has a Facebook page and website called "Hauntington" Also hundreds of videos on youtube of his paranormal journeys.