Time Link Soul Hypnosis© coming January 2020
Past Life, Life Between Lives & Meet Your Future Self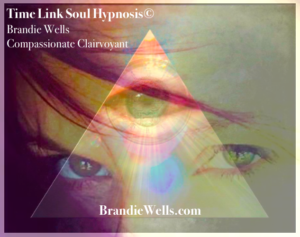 Past Life Regression: (2 hr) $333
Past life regressions looks back into the lives you led in previous incarnations to help you understand where your soul has been and how past life experiences may impact your life today under hypnosis.
Trauma or difficult experience in a past life can leave spiritual "scars" and affect the way you feel and behave in this life. This trauma effects your now. A past life regression can explain certain fears or blocks you might have and help you overcome them, based on an understanding of their origins in a past life. Understanding past life opens doors and awakens the soul to embrace the now!
Past life regressions are different from past life readings. In a past life readings, you are not hypnotized. It is an interpreted message. In a past life reading, a reader takes the journey into your past and conveys to you what he or she discovers; interpretation.
Life Between Lives: (2 hr) $333
Life Between Lives connects the sitter with the journey between your past life and your now. It connects you to your soul awareness. Guided into the spiritual state between lifetimes, under hypnosis, you can meet and communicate with your own personal Spirit Guide, greet your beloved Soul familiars, and consult advanced spiritual masters, known as Elders. You , potentially, gain opportunities for learning, healing, and tracing the threads of your own soul history as you delve into the lessons chosen for this lifetime. Most importantly, you can remember your path and purpose in your current lifetime.
In your session, you touch the divine not through books, psychic readings, but through your own unique personal experience. As you encounter the journey of your soul, the beauty of your soul's true home, and the presence of love and order in the universe, a shift in consciousness takes place; a transformation. Seeing, experiencing for yourself the grand continuity of existence and spiritual development brings personal power, a hopefulness, and a renewed determination to fulfill your soul's contract and present life purpose.
Meet Your Future Self (2 hr) $333
We can access past lives through hypnosis, so there is no reason why we can't access the wisdom of our future selves! Through hypnosis, there is an opportunity to experience a wonderful future life for yourself – a life where you have loving, supportive relationships, abundance, happiness, peace, health and prosperity? Obviously the 'you' you will be in this future already exists because as Quantum Physics tells us – past, present and future exist simultaneously. So, it doesn't matter if it will take you a year, five years or a decade to achieve this life – you are already living it and the you that is living it already has all the knowledge and all the experience you need to know to get there! All you have to do is make contact with the 'future' you.
The biggest benefit of a Meet Your Future Self Session, is you see the keys that unlock your current lessons and struggles. You experience the "how".
Ready to time travel? Join me for an amazing journey with  Time Link Soul Hypnosis©
Want the WHOLE JOURNEY? $888 includes the 6hrs plus an overview!