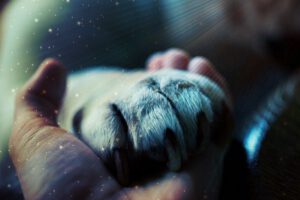 Telepathic animal communication is valuable in many different situations, enhancing shared knowledge and mutual understanding between animals and their persons. Past issues affect animals when stored energies (such as memories or traumas) result in tensions that cause the animal to alter its authentic behavior and be in a distressed state. Unaddressed, that state of distress can manifest into symptoms and/or disease. Animals relaying descriptions of their symptoms, feelings and pains (e.g. location, quality and frequency) can be helpful to veterinary health professionals in their diagnostic process. Communicating meaningfully about these issues helps the situation immensely. Depression and grief can manifest in emotional and physical health problems; addressing these underlying issues appropriately can improve balance and wellbeing. Specific behavior problems can be investigated and understood through telepathic communication, and training techniques can be improved with the animal's cooperation. Assisting animals with transitions and environment changes helps prevent anxiety and abandonment fears. Interspecies understanding is greatly enhanced through human and animal communication. With this increased awareness and closeness, you can create more loving and joy-filled relationships with your animal friends and indeed all of nature.
Brandie invites leashed or crated animals into her space. They may roam freely during the session.
She will also travel within Keene without a travel fee, but will charge $1 mile from any border of Keene to be determined upon booking.