Clairvoyant, Psychic Medium & Hypnotist
"Heal Your Past. Reveal Your Potential"
* Brandie is Proprietor of Shadow and Soul Emporium. Website: Shadowandsoulemporium.com
---
Upcoming:
Keene Wizarding Week
7-26 through 7-31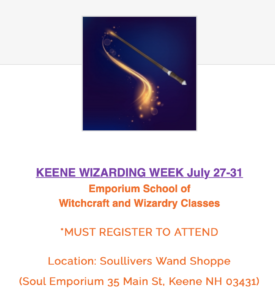 ---
Merge with Gary Galka and Brandie Wells
7-17-22 @ 2pm Latchis Brattleboro, VT
Brandie Wells, The Breakthrough Medium & Gary Galka, Inventor
Join this unique Modern Day Seance Combining Scientific Equipment and Psychic Elements connecting guests to their Angels, Guides and Past Loved Ones for messages of healing, hope and clarity. Gary Galka is a paranormal researcher and inventor of some impressive devices which are used by paranormal enthusiasts and investigators worldwide. Gary is the owner of DAS, an Electronics manufacturing company in CT and over the last ten years has investigated and worked alongside Zak Bagans, Nick Groff and Aaron Goodwin of Ghost Adventures, Dustin Pari of Ghost Hunters and renowned Psychic and Medium Chris Fleming. Gary was featured on a segment about Life After Death on "In Search Of" where he taught Host Zachary Quinto how to successfully capture Spirit Responses. Gary Galka is an award winning paranormal Researcher. He invented the MEL Meter, RT EVP Real Time.