Brandie Wells
Breakthrough Medium
Clairvoyant, Psychic Medium & Hypnotist
"Heal Your Past. Reveal Your Potential"
Gift Certificates for services are Click & Print (or email)
---
Upcoming Spirit Gallery's & Psychic Events Near You
Learn More About Manchester, NH Psychic Dinner Event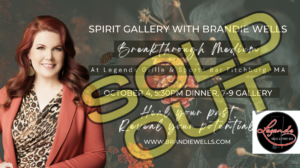 Gallery on Zoom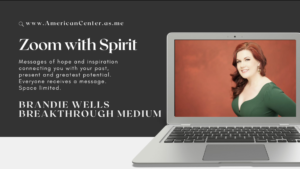 Learn More About Zoom Online Psychic Mediumship Event
Learn More About Gathering of the Goddesses
---
Book a Spirit Circle in your home or at a local venue
Host receieves a 30min Remote session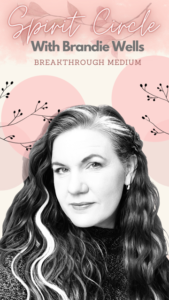 When booking a spirit circle, there are two options:
OR set up individul links so your guests can make their own reservations for your private party to host on Zoom or in person at your location by emailing Alyssa Email BookingwithBrandie@gmail.com
What is a spirit circle?
Spirit Circle; Open Forum Messages from your spirit guides, angels, pets and past loved ones. Brandie connects to the past for messages of healing and the future for messages of hope; inspiration.
---
Shadow and Soul Multi-Media Podcast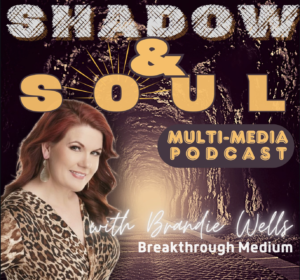 As seen on A Haunting Season 11, Episode 9, Brandie Wells is an Award-Winning, Tested & Endorsed Psychic Medium featured on Bob Olson's international best psychic directory "helping YOU locate reputable and legitimate psychic mediums". Brandie brings messages of hope, unveiling extraordinary and relevant information . "Heal your past; reveal your potential" is her mantra as she channels messages from beyond connecting YOU to your higher self; your guides, guardian angels and past loved ones. 
For intrigue and inspiration on this journey of life, join me weekly with special guests on Shadow and Soul Multi media podcast! 
My name is Brandie Wells, also known as The Breakthrough Medium. I am an Angelic Healer, Hypnotist and Psychic Medium. Through the shadows, we find our light. It is time to  REVEAL the truth beyond the veil with Shadow and Soul Multi-Media Podcast.
Weekly Livestream 4:40pm eastern on socials and recorded for your listening pleasure on WKBK/Keene Sat 12pm and WFEA/Manchester Sat 4pm 
---
Group Hypnosis on Zoom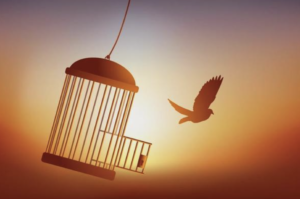 Hypnosis is simply a state of deep relaxation where the subconscious mind has heightened focus and concentration. The key to effective hypnosis is to trust the hypnotist. As a gentle practitioner, I help individuals achieve their dreams to make them a reality.
My tailored hypnosis is based on the needs of the attendees with small groups! Zoom is incredibly effective. What better place to relax than in your own environment?
The subconscious mind is the powerful secondary system that runs everything in your life.
Essentially, I am reprograming your subconscious mind and assisting you with the LAW OF ATTRACTION MINDSET. You become what you believe you are!
I am Brandie Wells, Breakthrough Medium and Hypnotist and I want to help you change your life.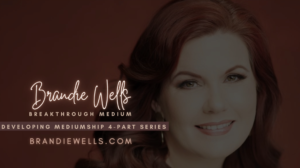 Developing Mediumship with Brandie Wells on Zoom/ 4 part series January 2024
Join International Psychic Medium Brandie Wells; also known as The Breakthrough Medium, for a four part series of exploring mediumship to help you embrace your own Spiritual Abilities on Zoom. From learning to use your own psychic senses to communicating with the Spirit world, this course gives you the building blocks you need. Whether you desire to become a working medium or just want to develop a better personal relationship with the Spirit world, this is the place to start. Limited to 16.
Waves of Hope
Waves of Hope started in honor of the loss of several loved ones over a year due to suicide, murder, and a car accident. The final straw was the loss of a local community friend and Costa Rica surfing lover. In the event of his friend's passing, Sean witnessed the struggles her mother faced in losing her child. The pain she endured was a magnetic force behind making Sean's dream of creating a retreat for parents who have lost a child. The week-long retreat at Vida Asana in Playa Hermosa, Costa Rica offers counseling, therapy, yoga, massage, meditation, and more.
Vida Asana functions year-round as an all-inclusive yoga retreat facility, and once a year sets aside a week for Waves of Hope. The nonprofit provides an all-expense paid healing retreat to parents in need of help after a loss.
Waves of Hope is making waves and touching lives, instilling hope and spreading love. The retreat will be hosted in August 2023. Our hope is to fully fund this experience for 14 grieving parents and help restore the Waves of Hope endowment so that we can help more families in the future.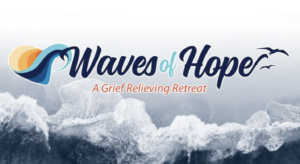 Any help and support for this incredible mission would be greatly appreciated by those who have suffered such tragic loss as we seek to honor our children that are no longer physically with us.
Thank you for your kindness, support and generosity!