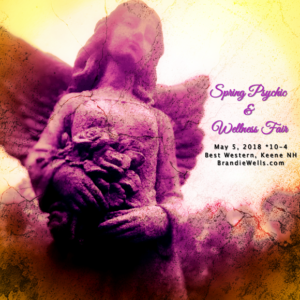 SPRING PSYCHIC & WELLNESS FAIR
MAY 5 * 10-4
$7.33 Advance until first 100 are SOLD/$10 CASH at door /$5 CASH from 1-4pm/Men are free
$20 to enter gallery/reserve online to guarantee a seat
Spring Psychic & Wellness Fair
MAY 5th 10-4PM
"Bringing people together through love and light, exposing talents, gifts and metaphysical merchandise!
All exhibitors will be complimenting each other, creating a balanced event"
Presented By: Keene Intuition & BrandieWells.com
*SALES OPEN ON 3-1-18
$8 Advance/$10 CASH at door /$5 CASH from 1-4pm/Men are free
$20 to enter gallery/reserve online to guarantee a seat. *TBA
Third Year! Last year 370 attended!
Location: Best Western Sovereign Hotel
401 Winchester St, Keene NH 03431
Main Event Located in Ballroom, the exhibitors will be in one large, open space.
Galleries located in Concord Room
35 vendors: Spiritual and Healing sessions, Metaphysical and wellness goods.
***18 are Healers, Readers and Spiritualists/***17 are Metaphysical & wellness goods.
4 Galleries with Brandie Wells & Danger T:
Open seating & limited to 16 per gallery. $20 per person- registration encouraged on BrandieWells.com.
10:30, 12:00, 1:30, 3:00 Limited to 16 per circle.
Event Created By:
Brandie Wells, Brandie Wells, Compassionate Clairvoyant
Co-Host of Soul Central, A1R International Radio Tues.,9:30pm est
Certified Angelic Healer, Psychic Medium & Animal Communicator
Readings, Parties, Paranormal Investigations & Psychic Events
Psychic Parties of New England
Owner of THE 555 Para-Psychic Investigations
Owner of Keene Intuition
100 Emerald St, Unit E, Keene, NH 03431
603-313-1895
Brandiewells.com