Let the Sun Shine in!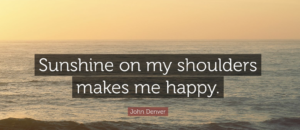 The Sun, which powers energy and human lives, is the most important energy source in the universe. It is important to appreciate the Sun and show appreciation for everything that it does for us. The sun made life on earth possible. Nothing unites and gives us a sense of oneness like the sun does. It gives warmth and light, which are essential to life; we all depend on the sun for our sheer survival. The sun is arguably the most common and unifying symbol across different cultures, religions, and communities in the world.
In astrology, the sun symbolizes our outward expression of self, your core personality,sense of self, basic preferences, romantic compatibility, and the way you move throughout the world. In opposition, your moon sign is your inward expression, the identity of your soul; the subconscious part of yourself that you may keep hidden from others. The sun signifies spiritual awareness and connection to the Divine. When we need to feel more connected to the source, call upon the sun's power to strengthen your devotion.
The sun is the source of life. Even if all the other sources of life such as fire, water, and air are present, there can be no life without the sun. The sun represents joy, healing and the determination to live. Calling upon the sun during meditation can restore your willingness to live. The sun will embrace you with its warm rays, energize you, and light the right path for you. The sun symbolizes a connection to the Divine and higher support.
The sun's spiritual energy can be helpful when you need a sense of direction in your life. Call upon the sun's energy when you feel lost, scattered, or overwhelmed. Let the sun illuminate new paths for you. Where you couldn't see a way, there now will be. When you are unsure of the steps to take, the sun will give you greater clarity.
Love, Light and Inspiration,

Brandie Wells, The Breakthrough Medium
Certified Angelic Healer, Hypnotist & Psychic Medium
Readings* Parties * Psychic Events