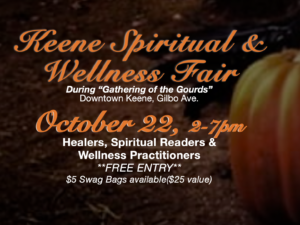 Sixth Annual Keene Spiritual & Wellness Fair during Gathering of the Gourds; A community event will be held at the County Lot next to Gilbo Lot in Keene.
OCTOBER 22, 2-7pm
It located is behind Soul Emporium Keene. 
We will have numerous vendors! 
$5 swag bag available and its loaded with coupons, information and FREEBIES! 
**FREE ENTRY. For sessions, pay the vendor direct. 
CLICK GOING ON FACEBOOK TO LEARN MORE ABOUT VENDORS
---
Vendors apply:
This year is much different but a great opportunity to expose your work! 
Registration is for ONE 10×10 space @ $75. (THIS FEE COVERS INSURANCE AND RADIO, PRINT, FB ADVERT) You can add a 2nd space for $60
REGISTRATION  Deadline is Oct 5
Space Sharing is permitted!  

In the registration, please include a short (4 to 5 sentence only) bio, photo and how you would like your business recognized (Business name/your name) in publications.

Each vendor will need to bring a $25 value gift for the raffle

Set up will start at 12:30, so please be set up by 1:45pm. The Fair ends at 7pm, but it's dark at 6:33pm and we ask that you stay until 7pm. No packing up early.
We will have swag bags again, but they are $5 and will have some great freebies! 
Please mail or drop by any giveaways you want to add (100 count) to Soul Emporium Keene 35 Main Street Keene, NH 03431 before Oct 5- THIS DATE IS FIRM!!! Ideas: Business cards, coupons, free samples.
NO ELECTRICITY AVAILABLE at tents.
BYO: 
Tent (10X10 required) weighted (for wind)
tables
table covers
props
change
battery powered lights if you want to light them at 5:30pm
Flashlights for packing up
Be out by 7:30pm
AS ALWAYS WILL BE HEAVILY ADVERTISED ON FB, RADIO & PRINT! PLUS it is during a LARGE community event!
LINK TO REGISTER:
https://brandiewells.as.me/KSWF2022

FACEBOOK EVENT: (click going, share and INVITE YOUR ENTIRE FRIEND LIST)